I originally posted this at http://bdgregg.blogspot.com/2006/01/brendan-clones-recently-james-dickens.html.
Recently James Dickens figured out that I'm a member of a family of Brendan clones, and suggested that there may be 1000 Brendan clones in Australia. Now that the cat's out of the bag, let me clear up a few things and introduce the gang. Firstly, there isn't 1000 of us – it's more like a dozen – however the number does vary. The following is a photo of seven Brendan clones busy working.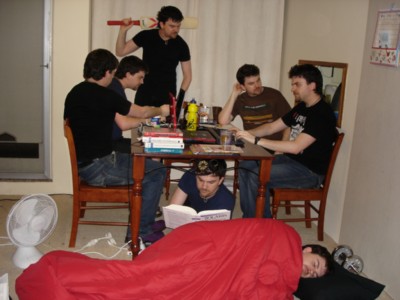 Sitting on the close left is documentation Brendan, and on the far left is testing Brendan - who is always busy testing programs in a variety of scenarios. Documentation Brendan takes the most interesting tests from testing Brendan and turns them into example documentation. Documentation Brendan also sometimes answers emails when email Brendan is travelling for work (as is the case here).
On the close right is programmer Brendan hard at work typing code. Sitting on the far right is creative Brendan, making suggestions to programmer Brendan. Creative Brendan maintains the enormous todo list for all the Brendan clones.
Sitting under the desk reading is study Brendan, who is currently studying "Solaris Systems Programming" by Rich Teer. Study Brendan is always reading, and reads textbooks from cover to cover. If he isn't careful he may need to get glasses (or borrow them from engineer Brendan, who isn't pictured here).
Sleeping on the floor is sleeping Brendan, who sleeps on behalf of all the Brendan clones.
Standing with the cricket bat is leader Brendan, who creates Brendan clones and destroys the ones not working hard enough. Programmer Brendan calls him "homicidal maniac Brendan", and only gets away with it as he works so hard.
Out of shot is TV Brendan, watching the Australia vs South Africa test cricket series. And (of course) photographer Brendan is taking the photo.